GOODMAN, J. In this action of tort for libel the plaintiff appealed (G. L. c. 231, Section 96, prior to St. 1973, c. 1114, Section 193) from orders sustaining the demurrers of the four defendants to his declaration. [Note 1] The demurrers rest, in effect, on the ground that the publication on which the action is based is not defamatory and that consequently the declaration fails to set out a cause of action. The demurrers were rightly sustained. Stated in terms of the new Rules of Civil Procedure, the motions to dismiss for failure to state a claim (Mass. R.Civ.P. 12[b][6], 365 Mass. 755 [1974]) were properly allowed and the complaint was properly dismissed. [Note 2] See Charbonnier v. Amico, 367 Mass. 146, 147 (1975); Ciccone v. Smith, post, 733 (1975).
The declaration alleges that the plaintiff, a member of the school committee of the town of Webster, was a candidate in the 1972 general election for the office of Representative to the General Court from a district comprising the towns of Webster and Dudley. It further alleges that during the campaign, the defendants, who were the other four members of the Webster school committee, caused an
Page 271
advertisement supporting the plaintiff's opponent to be published in the Webster Times, "with knowledge of its falsity and with reckless disregard of its falsity or truth," and that generally the plaintiff's reputation was injured. The advertisement is reproduced on page 273, infra.
The plaintiff's only contentions are that his claim is within New York Times v. Sullivan, 376 U.S. 254 (1964), and that the publication is defamatory. Since we hold that the publication is not defamatory, his other contention is immaterial. See Sharratt v. Housing Innovations, Inc. 365 Mass. 141, 147-148 (1974); Mass. R.Civ.P. 9(g), 365 Mass. 752 (1974).
The plaintiff particularly takes umbrage at the reference to "half-truths, innuendoes, and undue publicity" -- and especially the word "half-truths" -- and the imputation of dishonesty which he infers from the exhortation "to back a man [his opponent] with a lifetime of HONEST dedication." We find this type of close analysis is hardly a realistic indication of how this publication would be read--labeled as it is, a "Political Advertisement" and ending with a telephone number to call for transportation to the polls. The characterization of the plaintiff's statements could not reasonably be construed as anything more than a generalized attack on what the defendants, obviously partisan, apparently felt was unbecoming and exaggerated rhetoric employed by the plaintiff; and in context the word "half-truths" is a cliche rather than pernicious. [Note 3] Even such a word as "blackmailer" has been held not to be defamatory where the context -- a public controversy over zoning variances -- precluded such a meaning. Greenbelt Coop. Publishing Assn. Inc. v. Bresler, 398 U.S. 6 (1970). Further, it seems farfetched to construe the reference to the "HONEST dedication" of the plaintiff's opponent as anything more than an opinion that the plaintiff's opponent would be more devoted to the public interest. To be sure, the
Page 272
comparison is unfavorable to the plaintiff, but that does not make it an accusation of specific malversation. "[T]o use loose language or undefined slogans that are part of the conventional give-and-take in our economic and political controversies . . . is not to falsify facts." Cafeteria Employees Union, Local 302 v. Angelos, 320 U.S. 293, 295 (1943), quoted in Old Dominion Branch No. 496, Natl. Assn. of Letter Carriers, AFL-CIO v. Austin, 418 U.S. 264, 284 (1974).
In a political campaign, the exaggerated character of normal political discussion is usually intensified. "And when any man shall consent to be a candidate for a public office conferred by the election of the people, he must be considered as putting his character in issue, so far as it may respect his fitness and qualifications for the office." Commonwealth v. Clap, 4 Mass. 163, 169 (1808). [Note 4]
This case is cited in Aldrich v. Boyle, 328 Mass. 30 (1951), which also dealt with a publication labeled "political advertisement." Were we to subject the publication in the Aldrich case to the type of analysis urged by the plaintiff in this case, it would yield the inference that the plaintiff in the Aldrich case was not capable or honest, had not given the voters "a fair and square deal," and had "voted for his own interest." The court, however, said (p. 32): "We do not see how the advertisement, published as it was in the course of a political campaign, could injure the plaintiff's reputation in the community or expose him to hatred, ridicule, and contempt. See Commonwealth v. Clap, 4 Mass. 163, 167 [1808]; Commonwealth v. Wardwell, 136 Mass. 164, 169 [1883]. We think that the advertisement, read as a whole and reasonably interpreted, would not discredit the plaintiff in the minds of a considerable and respectable class of the community. Rightly understood, it is the customary type of hortatory appeal commonly
Page 273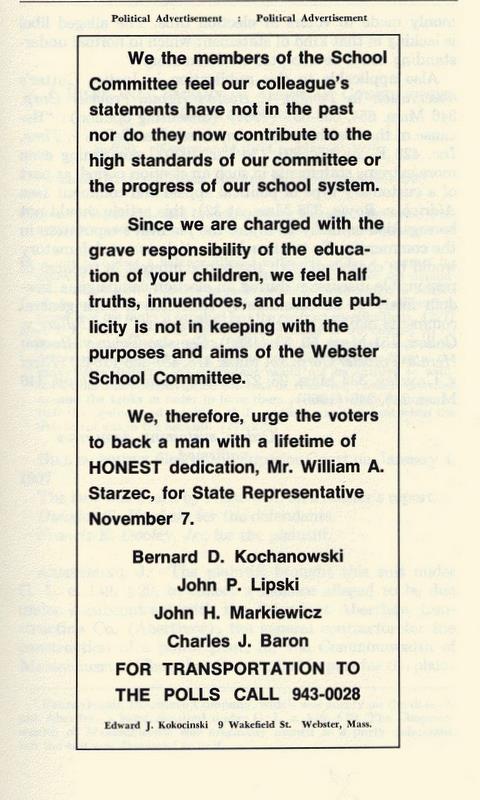 Page 274
made to voters at election time. The alleged libel is lacking in that kind of statement which in normal understanding could be accepted as defamatory."
Also applicable to this publication is Justice Cutter's observation in Twohig v. Boston Herald-Traveler Corp. 346 Mass. 654, 656-657 (1964) (dissenting opinion) : "Because of the healthy public skepticism [see Sellers v. Time, Inc. 423 F. 2d 887, 891 (3d Cir. 1970)] concerning even more extreme statements in such an election period, as part of a customary type of political appeal and comment (see Aldrich v. Boyle, 328 Mass. at 32), this article should not be regarded as likely to injure the plaintiff's reputation in the community. To treat such an article as not defamatory would be consistent with the public interest in freedom of responsible discussion during an election campaign, a freedom likely to be considerably restricted if such general comments may be regarded as defamatory." See Sillars v. Collier, 151 Mass. 50, 53 (1890). See also Tobin v. Boston Herald-Traveler Corp. 324 Mass. 478, 487-488 (1949); Ricci v. Crowley, 333 Mass. 26, 27 (1955); Adams v. Clapp, 346 Mass. 245, 249 (1963).
Orders sustaining demurrers affirmed.