Negligence, In use of highway.
If a traveller on foot, when about to cross a city street in which there are double tracks of a street railway, looks along the tracks and sees a car approaching at an apparently safe distance from him but does not look into a cross street from which a team is coming, and this team turning from the cross street and passing in front of him after he has crossed the farther track of the street railway bars his way, so that, although he steps away from the rail and as close to the team as possible, he is struck by the car, in an action against the corporation operating the street railway for his injuries thus caused, it is not to be ruled that his failure to look into the cross street was negligence as matter of law, and the question of his due care is for the jury.
TORT for personal injuries alleged to have been sustained by the plaintiff at about five o'clock on the afternoon of January 16, 1907, from being run into by a car of the defendant while the plaintiff was crossing Washington Street in Boston upon a cross walk at its junction with Elm Street. Writ dated February 26, 1907.
In the Superior Court the case was tried before Dana, J. A reduced copy of a portion of a plan used at the trial is printed on page 342. The plaintiff testified that he came from the North Station and had walked south on Washington Street on the left hand sidewalk; that, when he came to Elm Street, he left the sidewalk, turned to his right and walked across Washington Street on the middle cross walk; that, when he came to the north bound track of the defendant, he looked both ways and saw a car coming from the south; that he stopped for a minute and let that car go by; that he then started to cross the tracks
Page 342
and when he was between the two tracks he looked north again and saw a south bound car about two hundred feet away, that is, down on Hanover Street, and he walked on to cross the south bound track; that, when he was in the middle of that track, he looked north again and that car was then about one hundred feet away, coming on the south bound track; that, when he stepped over the farther or westerly rail of that track but was within a foot of it, a long, single team — not a buggy — came very fast from Elm Street around the corner into Washington Street, going south, and blocked his going ahead; that he then stopped a second or two, keeping his eye on that car which was then about thirty-five feet away, and he stepped westerly as far away from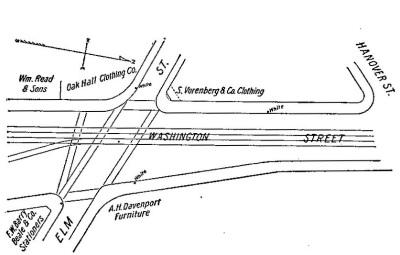 the rail as possible and as close as possible to the team, so close in fact that it brushed his clothes; that the car came "pretty fast" and struck his legs and threw him down; that when he saw the car the first and second times it was "coming pretty fast," how fast he couldn't say; that when he saw it the third time, before it hit him, he had stepped over the farther rail; that, when the car hit him, the hind wheel of the team had not gone by him; that when the car and team were so coming, he tried to but could not go any farther than to step close to the team; that, just before he was hit, he saw other teams in the street coming along and there was a car going north behind him, the bell of which was rung; that he was walking a middling gait, "no run and no slow."
Page 343
On cross-examination he testified that the electric lights were on and he could see plainly where the accident happened; that his eyesight and hearing were good and he was an active, well man; that he often had been over and was perfectly familiar with Washington Street before the accident; that he knew that cars ran on those tracks in both directions and were likely to go any time either way; that when he crossed over, it was to look for some lunch room; that he was alone and in no hurry and nobody crossed just ahead of him; that he went right across the tracks after the north bound car had gone by him two or three feet; that that car kept constantly moving; that the first he saw of the car that hit him was when he was between the two tracks; that it was then moving and kept on moving toward him until it struck him and that it was after he saw it so moving that he stepped on to the south bound track, but he did not at that time see that team nor until it swung around into Washington Street, although he saw other teams in the street; that he saw the team before it got in front of him; that Washington Street is a straight, wide street at this point and any one at Elm Street can look north or south and see several hundred feet in either direction; that it was light enough to see perfectly in that locality and there was a little snow on the ground; that when he first saw the horse it was not far away, three or four feet; that when the car was one hundred feet away, he did not see the horse anywhere and he was only "looking to the car" at that time; that that team was the only one right in that neighborhood.
There was evidence that the defendant's car was going fifteen or eighteen miles an hour and did not diminish its speed at any time until it struck the plaintiff; and that after striking him it went about one and one half car lengths. The plaintiff introduced in evidence the ordinances of the city of Boston regulating the speed of street cars, which it was agreed might be referred to.
At the close of the plaintiff's evidence the judge ordered a verdict for the defendant; and the plaintiff alleged exceptions.
E. Greenhood & S. L. Bailen, for the plaintiff, were not called upon.
R. A. Stewart, (E. S. Kochersperger with him,) for the defendant.
Page 344